Hours
Thursdays: Tapas and Live Music! 5pm - 8pm
Fridays and Saturdays: Fine dining 5pm - 9pm
Meet Erik Hagan, RE Farm Cafe's Farm Manager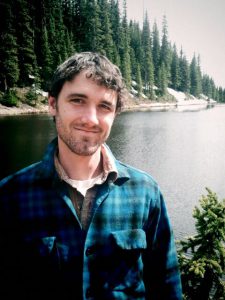 Erik has been teaching, designing and consulting in the field of sustainability of food systems and ecological planning since 2006, providing education and consultation on sustainable agriculture and permaculture systems for both homesteading and large scale farming operations in a number of states across the US. Erik's primary focus in this area has been developing diversified agriculturally productive systems based on site-specific ecological context to enhance site productivity and conservation value.
Work History
2008-2014, Owned and operated a diversified, vegetable, fruit and livestock farm specializing in the production of vegetables and fruit for local markets, focusing primarily on heirloom and locally adapted species. A number of vegetable varieties were developed and produced on site for use on-farm and sale through the Seed Saver Exchange catalog.
Recognizing the importance of community development and involvement for enhancing a locally based sustainable food system, Erik and his wife, started the West Olympia Farmers Market in 2010 in order to provide a place for start up farming operations to directly reach the public with our products. In addition, Erik became heavily involved in county level food system and agricultural politics to aid in encouraging small farm development in the region and as Vice-President of our local Grange hall, provided networking and social opportunities for small farmers to engage in community and political transformation dialogue.
2013, Coordinated the South Puget Sound Small Farms program, a partnership between Washington State University Extension and Mason Conservation District to provide education, outreach and technical support on sustainable agricultural and on-farm natural resource enhancement opportunities.
Erik relocated to State College in January 2015 to obtain a PhD in Ecology, researching and designing agroforestry and sustainable agricultural strategies for social (economic and cultural) and ecological resilience. Concurrently, he is coordinating an agroforestry professional development training program for the Northeast/Mid-Atlantic region to promote tree/shrub cropping systems for enhanced economic and environmental sustainability for the eastern United States. Erik sees the production of food and resources as not to be isolated on a heavily managed farms, but integrated into the place and social context of the community for which the managed systems provides. Thus, leading to a cultural perspective on honoring the resource, labor and experience for how it produced, processed and consumed.